'At last the definitive guide to easy entertaining that we've all been waiting for - a truly beautiful and inspirational book that has been long overdue. This is a book that delivers simple and stunning presentations and delicious but uncomplicated seasonal recipes that make for effortless entertaining with style. Victoria and Lucinda's practical yet innovative approach is bound to be a winner, whether you are new to cooking or you entertain every week of the year. We know we won't be entertaining without it.'
Trinny Woodall and Susannah Constantine
Buy this title from Amazon.co.uk>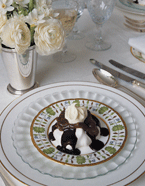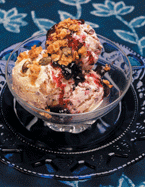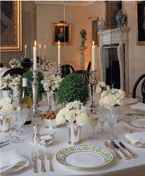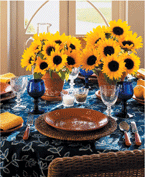 Photography by Mark Cator
A HARPER'S BAZAAR PICK FOR PARTY QUEENS
Entertaining - the process of what to cook for friends and family - can be daunting. How to deal with fussy recipes? Or cater for larger numbers? How should the food be presented? How do you make the table look inviting and well put together without too much time or stress?
This book provides answers to these questions and more. Victoria and Lucinda give you ideas which enable any host or hostess to move ahead with confidence.
Divided into monthly segments with menus for lunch and dinner, seasonal table settings and flower arranging ideas, all illustrated by sumptuous photography, Flavour of the Month opens a whole new world for aspiring hosts who want to entertain beautifully but don't want to end up stressed and worn out. Above all, Victoria and Lucinda's aim is to make entertaining a fun and enjoyable experience – as it should be!
'Being less domestic goddess than kitchen dunce, I need help. Enter Lucinda Bruce and Victoria Cator...who are set to become glamourous new kitchen pin-ups following the launch of Flavour of the Month..."We've deliberately made the recipes as simple as possible," says Lucinda. Mercifully true. Emboldened, I attempted one of the July recipes over the weekend – rack of lamb with guacamole and tomatoes spruced up with a pot of pink geraniums on the table...my testers wolfed it down, declaring it a winner.' Sophia Money-Coutts, Evening Standard
'This book is such a clever idea I'm amazed it hasn't been done before...the recipes are just right for a grand but unpretentious dinner party...(they are) interior designers, and their table settings show the attention to detail that comes with the job.' Country Life
'You heard it here first: Victoria Cator and Lucinda Bruce are the new Trinny and Susannah – but their mission is to reinvent the way we entertain rather than how we dress...The real hero of the book is photographer Mark Cator whose sumptuous images bring V and L's succinct tips and recipes to life.' Tatler
Victoria and Lucinda's Website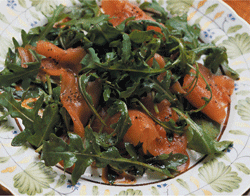 'The best all round entertaining book that I've seen in a long time.'
Alessandro Tome (Ex food writer for Harpers and member of the exclusive Accademia Italiana della Cucina.)
£15
Original Paperback 272pp
COOKERY/DESIGN
ISBN: 978-0-7145-3144-1
Publication Date: September 2008
World Rights