To read an extract from RUSH! click here
'This is a brilliant book about the making of a political activist. For anyone who has ever dreamed of turning their frustrations and beliefs into practical action - this is for you.' ROSIE BOYCOTT
'The climate crisis needs a response from across society if we are to get our governments to take the urgent action necessary to curb spiralling greenhouse gas emissions. This story about one woman's decision to be part of the solution rather than the problem will hopefully inspire many others to similar levels of creativity, commitment and protest.' CAROLINE LUCAS - GREEN PARTY MEP
When Tamsin Omond left university she had no idea that within a year she would be up on the roofs of Parliament, breaking the law for her beliefs about climate change. 'Rush! The Making of a Climate Activist' is a candid account of her journey from directionless student to wannabe priest to poster girl for the green movement.
Join her as she takes her first steps in the eco-topia of Climate Camp, gets arrested with radical activists from Plane Stupid and launches CLIMATE RUSH, a Suffragette-inspired direct action group, with a thousand-strong rush at Parliament. Then read the DIY guide and get involved. From the excitement of Obama's inauguration day to braving police violence at the G20, from the glamour of meeting glossy magazine editors to breaking bail and facing two months in Holloway, 'Rush' is one girl's response to the frightening reality of climate change, and a call to arms for a generation ready to take politics back into its own hands.
This is her story, make it yours!

To see a video clip of Climate Rush in action, go to: www.mrinf.co.uk/CR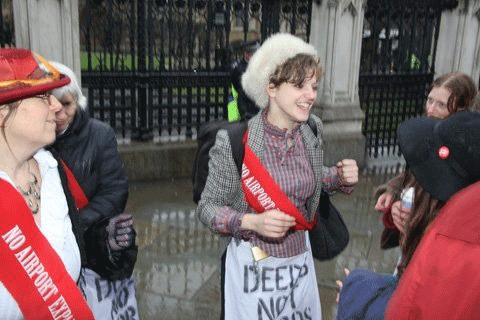 Phot
Photo of Tamsin Omond, at a Climate Rush outside the Houses of Parliament, London, by Amelia Gregory
£7.99/$17.95
Original paperback 180pp
ISBN: 978-0-7145-3146-5
October 1st 2009
World Rights including serial 
Tamsin Omond describes how she became a climate activist after sharing her student days with Plane Stupid activists. She became the spokesperson for the new wave of climate activists who wanted to more than change their light bulbs and personal lifestyles. The book details her year in calm study for a priesthood, followed by her change to activist, subsequent arrest, prison and her terror in sharing a cell with a young woman who considered a prison life of drugs and 24 hour TV better than the outside world. Tamsin gives us a history of the suffragette movement and the inspiration for the current group of climate activists, along with essential information concerning the global environment and its tipping point towards being unable to sustain the practise of immediate consumption that our greedy lifestyles are based upon.
She also comments on the women's movement and its failings.  From the big meetings in Parliament (18% female MPs) to the small meetings in a field where 81 men spoke against a count of 16 women. What is this strange socialised form of segregation and why did the author, inspired by the suffragettes, want it challenged?